At one point or another, every Computer Technician has come under the necessity to login to someone else's computer. This action comes about when physical distance makes support very difficult to accomplish. As such, Technicians have used many tools of the trade that make their jobs much easier to accomplish, without having to travel anywhere.
There are many reasons why a Technician might be contacted. Hardware issues might be at the heart of every calamity that a User experiences. If such be the case, then the Technician must perform a physical diagnostic of the hardware, and determine whether it is salvageable. That operation does involve the physical travel to the User's location.
On the other hand, if a User is having software issues, and there is an Internet connection, said issues may be resolved remotely. All it would take is the simple running of a remote application, and allowing the Technician to access the User's computer.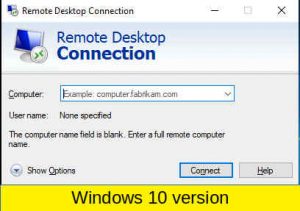 The most simple way that Technicians have remotely connected to Users' Windows computers is by using a program called Remote Desktop Connection. This program requires the computer name or IP address of the target computer, along with the username and password. Once that has been accomplished, the Technician has complete access to the User's computer, and is able to resolve any pending issues. Of course, there are problems when the User and Technician are not in the same network, as Remote Desktop Connection may not make the…connection.
Remote Desktop Connection works without any issues when a Technician and a User are in the same network, such as being in the same building, but different floors. However, if a User is hiding behind a home router, the Technician will not be able to use this particular program, as the User may not know how to make the proper configuration to allow a connection. To rescue the situation, there are programs that allow remote connections, even if the Technician and User are not on the same network.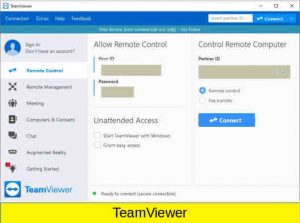 One popular option to make remote connections is the use of a program known as TeamViewer. This program does not require any router configuration. Instead, it asks the Technician and User to exchange ID numbers. With that, it creates a secure tunnel through the TeamViewer network, allowing the establishment of a connection.
TeamViewer, like most commercial remote-desktop programs, offers a free version for non-commercial use. This means that usage is limited to friends and family members whom a Technician wishes to help. Of course, if the TeamViewer company suspects a pattern of commercial usage, they will ask the Technician to obtain a commercial license. In certain situations, that might not be a problem. In others, the situation necessitates alternative solutions that do not require a license, nor payment. One such option is a program that comes with Microsoft Windows 10: Quick Assist.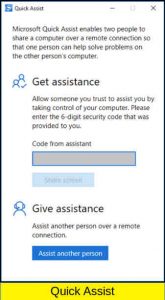 Quick Assist requires the Technician and User to login with a Microsoft account (which is free). Afterwards, they exchange ID numbers, and the connection is established. Quick Assist does not require any configuration. It just creates a secure tunnel through Microsoft's network.
Quick Assist is such a life-saver. With it, anybody with technical knowledge can assist a User with their computer problems. From troubleshooting a monitor's resolution to changing the fonts to the User's liking, remote assistance with Quick Assist is great. To top it all off, it is FREE.
When I mention that Quick Assist is free, that is because it is free to use for personal and commercial purposes. Of course, the purchase of Windows 10 is required. Other than that, the sky is the limit.
There are many alternative options other than Quick Assist that can provide extra features, such as being able to connect to multiple users. Of course, those are commercial services, and they require a payment. So, for being a free program, Quick Assist does a very solid job.
Disclosure: Comptektronics LLC earns from qualifying purchases.