Throughout my career, I have dealt with all sorts of technical issues. I have troubleshot lagging network connections, created e-mail accounts, solved computer-monitor issues, administered server accounts, and provided application support…and a whole lot more. At each turn, I have tried to use my ingenuity to overcome certain challenges that have come my way. One such challenge is the extraction of data from loose hard drives.
I have come across users that needed their data from their old computers to be transferred to their new systems. Most often, I would use a USB thumb-drive in order to perform that task. Of course, at times, I would deal with computers whose hard drives had higher data storage than my thumb-drive could absorb. On those occasions, I would use workarounds in order to get the job done, such as copying the data in parts, until everything was transferred.
The other technique that I would use to extract data is to attach the old hard drive to the new computer, and transfer the required data. Of course, this solution requires that I open up the new computer case, and find available connections. My solutions got the job done. However, I felt that there were inconveniences and limitations to the way that I performed data-transfer, and decided to get a hard-drive docking station.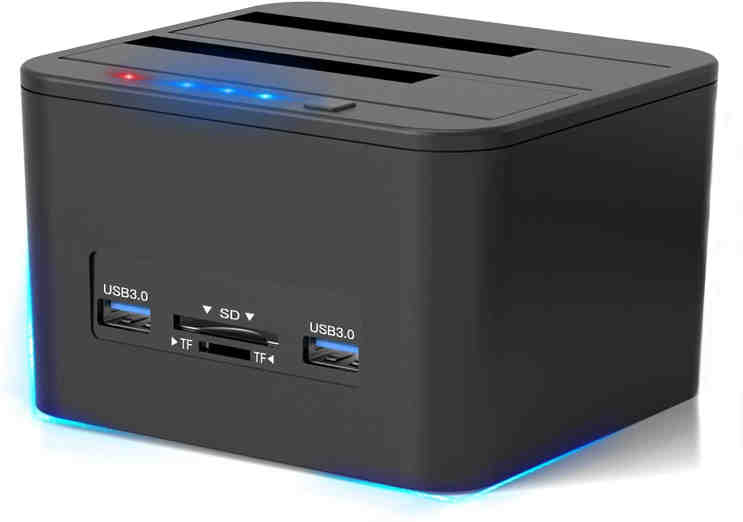 As soon as I received my docking station, I did some major exploration. The station came with two slots for external hard drives. They accept both, 2.5 and 3.5 SATA drives. The station has a USB 3.0 connector. Plus, it came with an external power supply
The hard-drive docking station has proven to be extremely convenient. Now, whenever I need to extract data from a loose hard drive, I can insert it into the docking station, and plug it into my computer's USB slot.
Another nice feature of the docking station is the ability to duplicate a hard drive without being connected to a computer. All you have to do is plug in two hard drives into the appropriate slots, press the button, and just wait for the signal to indicate that it has finished the cloning procedure.
I have found the docking station to be amazing. It is practical, and reasonably fast. Of course, it all depends on how much data a person is extracting. Plus, it depends, as well, on the speed of the hard drive.
Overall, I do recommend everyone to get a hard-drive docking station for those moments when you have a need to extract data from a loose hard drive. They are very convenient to have, and do not take much space to store.
Note: feel free to visit our affiliate links. When you purchase an item with the links, we may get a small commission. Visit: www.comptektronics.com/affiliate-products/